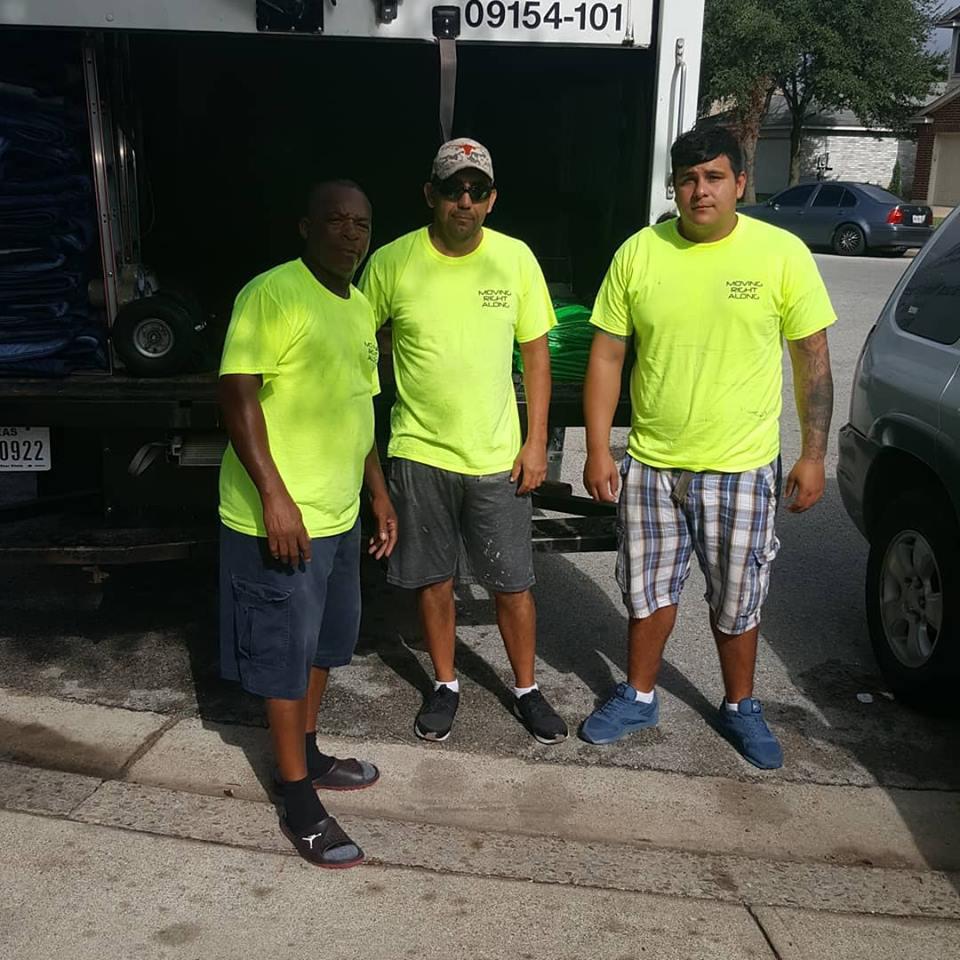 About Moving Right Along | Meet Big Ced - Local DJ and Happy Moving Specialists
After working together for years at another company under bad ownership, we branched out on our own in 2017. Everyone here has years of experience in the moving industry and we have raised the bar to meet the expectations of not only you the consumer, but that of how we would want someone to come in and move our own family. We care, we are professional, and customer satisfaction is our #1 priority.

Call today, sit back and relax, and let us keep you MOVING RIGHT ALONG.
Check out our video
to see what
Moving Right Along
can do for you!
Why trust our company?
It has been our mission to exceed customers expectations. We're proud to offer a professionally trained staff with all proper moving equipment to provide you with a stress-free, seamless moving experience. Call us today to get your process started!
Fully licensed and insured, We provide the best prices, experienced movers, great customer service.
Performing over 400 moves a year in the Austin and surrounding area, we enjoy helping people under all conditions.
As you will see from our many testimonials, 99% of our customers are satisfied with our services because we truly care about you and the safety of your possessions.
Our crews treat your parents like our own. Our move managers in Austin will help sort, pack and move your precious loved one's belongings for them.
Our highly trained crew ensures your items are transported efficiently and arrive in the same condition they left your old home. We care about your stuff more than you do!
As a finishing touch, Moving Right Along Tx will also provide a complete walkthrough at both the pickup and delivery locations, to make sure that everything is perfectly in place.
Check out our move process
Request Quote

Make the move and call (512) 975-3888 or fill out the form to request your moving quote.

Move Details

Our professional service specialist. We will get back to you within 1 business day to discuss details.

Schedule Move

We will work together to schedule the moving date & book moving services.

Reminder Call

We will give you a reminder call the day before the move to confirm the move.
Award Winning Team

Our highly trained moving crew will arrive to move your belongings to your new home.

Perform Walkthrough

We will perform a walkthrough after the move to make sure went as expected and keep you happy.

Feedback Request

Our customer service rep will contact you and request feedback to ensure you are satisfied with your move.
Tuesday
9:00 AM - 6:00 PM
Wednesday
9:00 AM - 6:00 PM
Thursday
9:00 AM - 6:00 PM
Saturday
9:00 AM - 6:00 PM